We've heard your Questions &

We've Got Answers
Frequently Asked Questions
What ingredients are in Doggie Dough?
---
At Dough ReMia, we only use the purest ingredients. There is NO soy, NO Preservatives, NO Gluten. All dough is made with love to order in small batches in the USA! All recipes include gluten-free oat flour, organic sweet potatoes, bananas, organic tumeric and purified water. Our "Original" recipe includes organic peanut butter. Whereas our "Nut-Free" recipe uses organic sunflower seed butter. Our pumpkin varieties uses pureed pumpkin in place of sweet potatoes.
---
How do I bake Doggie Dough for my dogs?
---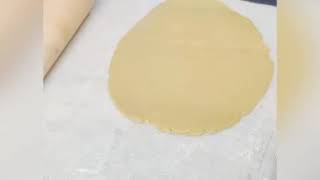 *NOTE: Baking times will vary depending on the size and thickness of the treats, as well as variations in individual oven temperatures. Be sure to keep an eye on them to prevent burning. Doggie Dough is perfect for dogs of all sizes. You get to choose how big or small you would like the treats to be. Suggested Baking Directions: For all doughs, preheat oven to *350 degrees. After that, just shape & bake! You have options: 1) You can simply slice the dough, 2) You can roll the dough out and use cookie cutters to shape, and/or 3) You can roll the dough into balls If the dough is too sticky, add some flour (our recipe contains gluten-free Oat Flour) Then place on cookie sheet (~ 2" apart) and bake to desired crispiness* (15-20 minutes) Watch your dogs come running and wagging! *because the recipe contains sweet potatoes/pumpkin, they will be a softer textured treat due to the moisture in both the sweet potato and pumpkin. If your dog prefers a "harder" treat- read the next FAQ! If you do not use all of the dough at one time, wrap the ramaining dough and store in an airtight container and refrigerate for up to 2 weeks from time of purchase or freeze for up to 6 months.
---
How does Doggie Dough stay fresh when it's shipped?
---
Each dough is vacuum sealed and frozen immediately after being prepared. It is packaged in an insulated, padded envelope placed in a box with icepacks to keep it chilled during transit. You have the option to refrigerate or freeze it when it arrives via USPS. If your dough arrives thawed out, don't pout! Fortunately, all of the ingredients are safe to consume at room temperature because Dough Remia's Doggie Dough is a vegan and dairy free treat. However, it should be refrigerated or frozen when you receive it to maintain its freshness.
---
Do you take custom orders?
---
If your dog likes something specific, or you need a large quantity of rolls for a special occasion, please contact us and we will do our best to accomodate your needs. We can discuss other options and pricing with you. doggiedough@doughReMia.com or 215-704-3200.
---
How many baked Doggie Dough treats can my dog eat?
---
NOTE: Serving size will vary depending on the desired shape and size of the treats you bake. Our furry friends would probably eat the whole batch at once if we let them! But remember, these are designed as dog treats. Think about feeding yourself or your children treats between meals... However, these contain all-natural, wholesome, and organic ingredients. There is never any preservatives, soy, or gluten in any of our dough to upset your pup's stomachs. For a good sized 2.5 inch cookie we would suggest: • Small Dogs under 25 lbs... approximately 2-3 a day • Medium Dogs between 25-60 lbs....approximately 4-5 a day • Large Dogs over 60 lbs.... approximately 6-7 a day You know your dog best so use your judgement based on his/her needs and weight.
---
Why does the dough in my refrigerator seem to have changed color (darkened)?
---
Think of an apple or potato turning brown when exposed to air. You can still eat those types of foods because only the coloring has been affected due to enzymatic discoloration. It might not look as pretty, but it will still taste just as delicious (your pup won't care what it looks like just as long as it tastes and smells yummy!) Even though it is vacuumed sealed, some air may have been trapped inside.
---
How can I make the treats harder/crispier for my dog?
---
Dehydrating your treats will help remove excess moisture and preserve the treats for a longer period of time. This will help prevent spoilage or decay, as well as create a harder/ crispier texture. Because the treats are made with sweet potatoes and/or pumpkin, they will come out of the oven as a softer, chewier treat due to the moisture in those ingedients if baked as directed. However, if your dog prefers a harder/cripier treat, follow these simple directions to dehydrate them: 1) Bake as directed and then leave them in the oven with the door closed for at least 2 additional hours. -OR- 2) Turn your oven to the lowest setting and bake for 2-4 hours until hard.
---
Can my dog eat the dough raw?
---
*Yes and No... The "Original" and "Nut-Free" varities can definitely be eaten in raw form (as always be mindful of the amount you feed your dog). In fact, it's an excellent way to give your dog any pills/medication: hide it in a small peice of the raw dough. They'll love licking it from your fingers! *The pumpkin variety should NOT be consumed raw as the pureed form is not fully cooked through.
---
Can I eat it, too?
---
Absolutely! All ingredients are human grade and super healthy. Try it, you might like it! (but save some for your dog!) We have customers who don't own dogs!
---
How many treats can I make from a 1 pound roll?
---
Well, that really depends on how you choose to use it. You control the shape, size and thickness of each treat you make. That is why Dough ReMia's Doggie Dough is perfect for dogs of all sizes. 1 pound of Doggie Dough is A LOT of dough! If you use our: ~ 1.5 inch "mini" bone cutter, you can get approximately 130 (give or take) 1/4 in. thick treats ~ 2.5 inch bone cutter, you can get approximately 60 (give or take) 1/4 in. thick treats ~ 3 x 3 Pumpkin cutter, you can get approximately 16, 1-ounce thick treats You do not need to use the entire roll of dough at once. We recommend baking treats at your convenience and storing the unsused dough in an airtight container (wrapped in plastic wrap works well!) in your refrigerator or freezer for future use. Store in refrigerator for up to 2 weeks and in the freezer for up to 6 months of receiving it. Or, if you decide to bake it all at once, freeze some of the baked treats for later to preserve freshness.
---
How do I store Doggie Dough once I receive it?
---
Place Doggie Dough in your refrigerator for up to two weeks or in the freezer for up to six months. Keep sealed in an airtight bag or container. Wrapping in plastic wrap also helps to maintain freshness. Once baked, place in a resealable container (Note: there are no preservatives) To maintain freshness, it is recommended to keep in the refrigerator or freezer and use as needed.
---
What should I do if the Doggie Dough is too dry or sticky?
---
DRY: If it is too dry or crumbly to work with, add a few drops of water at a time whlie you knead the dough. Once it is to a desired consistency, then you are ready to "Shape & Bake!" STICKY: If the dough feels too sticky to work with, sprinkle a little Oat Flour and knead it into your dough until it's at a desired consistency. Oat flour will keep the treats gluten-free. *If you do not have oat flour, we recommend using almond, rice, or whole wheat flour. [NOTE: If you only have all-purpose flour, use it sparingly and do not feed it to your dog unbaked.]
---
---
about Dough ReMia's Doggie Dough bake-at-home dog treats